F.H. HAMBLET, LLC
Professional Electric Contractors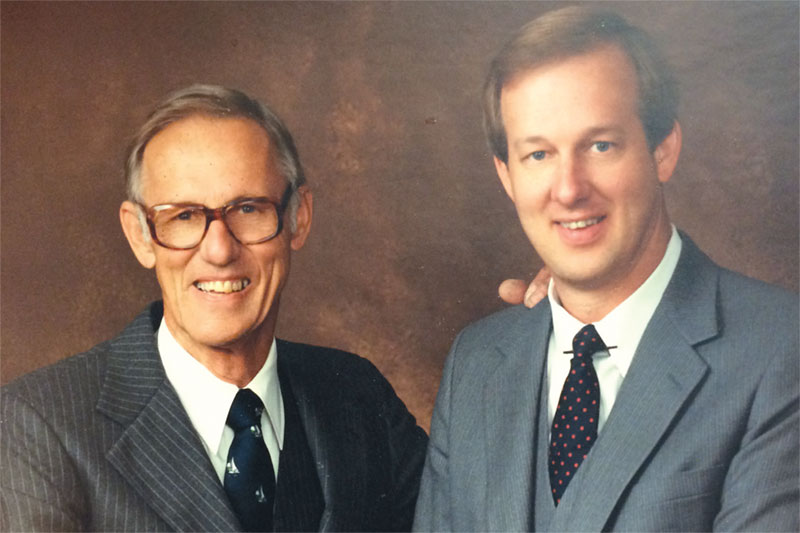 In 1945, equipped with a genius for mechanics and a minimum of equipment, Fred H. Hamblet began serving the electrical needs of Keene, NH, from his garage. Hamblet brought a heritage of New England ingenuity, a strong work ethic and common sense to his business and the fledgling enterprise became a reliable and respected electrical service business.
Soon, the next generation brought fresh ideas and enthusiasm to the company. Philip "Flip" M. Hamblet, in charge since 1978, learned his business skills from his father and his electrical skills from apprenticeship school and years of field experience. Armed with the same work ethic as his father and a strong desire to take the company to the next level, he worked tirelessly to grow the business from its humble beginnings to a recognized leader for the electrical services in Cheshire County and beyond. On July 1, 1986 Philip became owner and President of the company.
PROUDLY SERVING THE MONADNOCK REGION & BEYOND SINCE 1945
With Christopher "Topher" C. Hamblet now at the helm, Hamblet Electric is under the leadership of its third generation. A graduate of St. Lawrence University, Christopher gained knowledge of the electrical field by working summers throughout his high school and college years. Returning to Keene to work full time for Hamblet Electric in 2004, he successfully completed his apprenticeship program, then earned his Journeyman and Master electrical licenses. He was appointed Executive Vice President of F.H. Hamblet, LLC in 2011, and in 2013, was appointed President of the company. Like his father before him, Christopher brings his work ethic, fresh ideas and the desire to see the Company continue to be a leader in the industry.
Throughout our more than 75 years, we've expanded on Fred Hamblet's talents and upgraded our office and warehouse facilities three times. Our present complex on Victoria Street, built in 1976, encompasses more than 7,500 square feet. Our electricians in our fleet of highly recognizable "Hamblet yellow" vehicles, can be seen serving customers throughout the greater Monadnock region, Vermont and Massachusetts.
Even though Hamblet Electric has grown by leaps and bounds since its inception, solid reasoning and sound principles still form the cornerstones of the business. In addition to these philosophies, one thing remains central to the company's success: its people. Comprised of a field and office staff with an average of more than 15 years of service, the seasoned team at Hamblet Electric brings experience, a solid work ethic, and a desire to separate itself from the competition to each project they work on. "My staff is the backbone of this company", states Christopher. "They are, without a doubt, the reason the Company continues to be successful and has been able to weather turbulent economic times and vast changes in upper management. They are what make Hamblet Electric such a solid company".
Christopher knows the odds aren't in his favor, saying, "The vast majority of family businesses never make it to the third generation. Being a part of a third generation business is extremely unique. I couldn't be more proud of my team and the fact that this company continues to be a leader in the electrical services market and a place where people can work their whole career. I am very much looking forward to what the future brings. We'll be here for a very long time."
Residential, Commercial, Industrial and Institutional projects of all sizes encompass our area of expertise. Our mission is to provide the highest quality electrical installations for your project, large or small. Hamblet Electric is eager to meet your electrical needs now and in the future.
Address
29 Victoria St
Keene, NH 03431